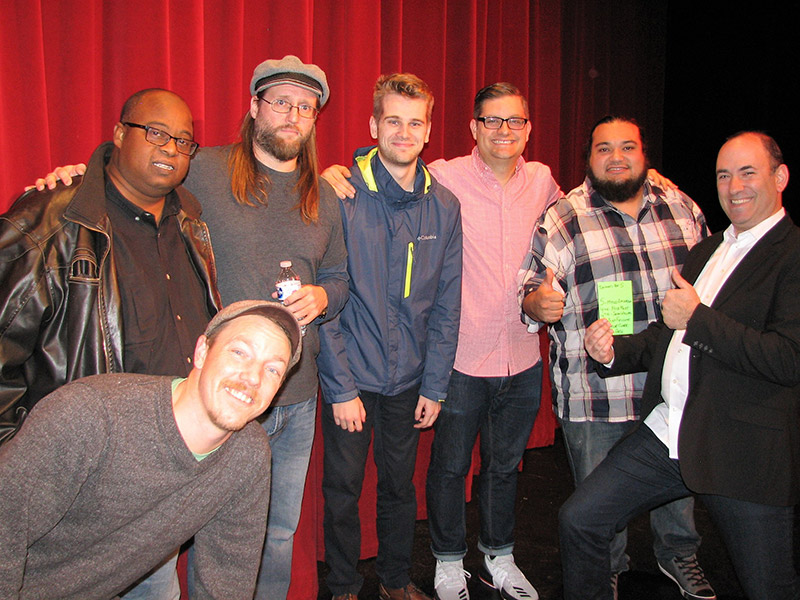 A memorable night of comedy at Bainbridge Performing Arts in Bainbridge last night. Not just because Ana-Marija Stojic ended her set by crowd surfing her way to the middle of the stands. It's been a strong show all week for the Semifinals of the 38th Annual Seattle International Comedy Competition.
The top honors for the night went to Portland's Adam Pasi who turned in a strong, story-telling based performance. Taylor Clark continues to take strong placements with a second place finish tonight. Alex Falcone returns to the Nightly Top 5, possibly to start a brand new streak of podium finishes, by taking 3rd. There was a tie for fourth place as Nick Hart (who earned a perfect score from one of the judges on this night) and Sean Williams (who made his first Nightly Top Five of this week with a great set early in the night) ended up with the same score for the night. Wrapping up the Top Five for the night was Victoria's Myles Anderson who claimed the 5th spot.
The Top Five Comics
1. Adam Pasi – Portland
2. Taylor Clark – Everett
3. Alex Falcone – Portland
4. Nick Hart – Madison – TIE
4. Sean Williams – Moreno Valley – TIE
5. Myles Anderson – Victoria
Going into the fifth and final night of the Semi-Finals, the scores for the week are too close for anyone's comfort. Only the top five for the week will advance to the Finals, and the people outside of the Top 5 will need to grab a big score at Laughs Comedy Club in Seattle's U-District to make their claim.
To give you a glimpse into how close the scores are: the difference between 5th place and 6th place–which is the difference between making the Finals and going home–is currently ONE HUNDREDTH OF A POINT.
It doesn't get closer than that!