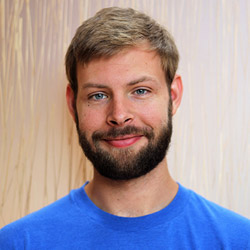 Andrew Frank is a comedian based out of Chicago. His cerebral, imaginative style and relentless ethic have earned him three nationwide tours spanning a total of 52 cities. His love of language, philosophy, religion, sociology, anthropology, and cosmology are on full display each time he takes the stage.
He has had the privilege of working alongside great comedic minds such as Anthony Jeselnik, Kevin Nealon, Jake Johannsen, Bobcat Goldthwait, Chad Daniels, Tommy Johnagin, and many more. He was the Winner of Make Me Laugh 2015, The Winner of Go Bananas Comedy Club's Funniest in Cincinnati 2016, the Runner Up in Trial By Laughter 2015, and the Runner Up of Helium's Funniest in St. Louis 2016 Competition.
His first independently filmed hour special entitled Macrocosm was released in February 2017. Andrew continues to explore his mind and the minds of others at clubs, independent venues, and colleges all over the country.

WEBSITE: andrewfrankcomedy.com
FACEBOOK: facebook.com/andrew.frank.144