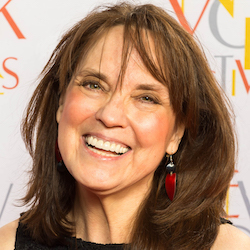 The late Joan Rivers said, "Her mind is cracked – very funny!" Emmy-award winner, Linda Stogner, is from Dallas, Texas and is the reigning champion of the Funniest Comic in Texas Competition.
The comic/filmmaker is a two-time FCIT finalist and has appeared on the PBS/ABC national series, "Life 360" and The Joan Rivers Comedy Special. She has performed at comedy festivals and competitions around the country including the San Francisco Comedy Competition, Laughing Skull Comedy Festival, Boston Comedy Festival, Limestone Comedy Festival and the Las Vegas Comedy Festival.
She has worked with Arsenio Hall, Dave Chappelle, Kathleen Madigan, Brian Regan, Rob Delaney, Elayne Boosler, Bruce Bruce and many more.